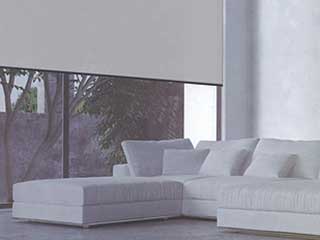 Shades, blinds, and curtains are all meant to keep some proportion of the sunlight out. They also increase your privacy when you close them. The ranges of light and visibility they can keep out vary from type to type. If you want to have the option of shutting all light out completely, blackout blinds will do that. They're great for people who don't want something claustrophobic like window shutters. El Cajon Window Shadespecializes in affordable, long-lasting room darkening blinds, including these light-proof protectors. With opaque vanes, an interlocking closed position, and some soft texturing, you can seal off a room while keeping it comfortable, airy, and homelike.
The Best Blackout Blinds For You
Every order from our company comes with a free estimate and consultation appointment. All of our window treatments are custom designed on an individual basis, and our experts will help you make informed design choices. Your custom blackout blinds can be any color, pattern, or frame style you want. We also include delivery and installation services in the package, once your product is ready. If you want affordable – while still maintaining high-quality – blackout blinds near the El Cajon area, then get in touch with us for a free estimate. El Cajon Window Shade offers it's in-person consultations to all nearby regions. We're happy to advise and show you our terrific range of window treatments at your home or office.
Blinds For Home Windows And Doors
Since they're the most light-proof type of blinds out there, blackout blinds in El Cajon bedrooms and other resting areas are quite popular. Aside from bedroom, living room, or similar windows, you might also want to consider adding them to certain doorways. French doors with blackout blinds keep their elegance and functionality if the blinds are well designed. Wider glass sliding doors, like deck and patio entrances, work best with vertical blinds. Good thing our blackout blinds options come in both orientations, along with tons of other customization options!
Blackout Blinds On Office Windows
Residences aren't the only places for these heavy-duty window treatments. Installing some office blackout blinds will protect screens and eyeballs from glare, and let you shut out most distractions without turning your El Cajon office into a prison cell. If you have a lot of computer screens or waiting benches in a room, consider the risks posed by each window! Many offices, galleries, and lounges also have ceiling windows or skylights. These are spectacular features, but they can be a real problem in the wrong weather conditions. We can design a set of blinds to cover angled or ceiling windows as well as vertical wall openings. Blackout blinds for skylights work just as well as they do for bedroom windows or patio doors. They do absolute wonders for your work environment during very sunny or rainy days!
Automatic Blinds, Blackout & Room Darkening
In addition to vertical, ceiling, and multicolored design options, we also offer other choices. Like between traditional and automated window treatments. Motorized blackout blinds serve as an excellent addition to anywhere you want convenience and privacy. El Cajon bedrooms with motorized blackout blinds let you control precisely how much sunlight comes streaming in. You can do this with your smartphone as the remote, or an actual remote control handset. Also, you've got the option of choosing the power source you prefer (wired, battery or solar-powered). That, as well as special features you'd like (timer settings, brightness/temperature sensors).
Get a Free Estimate In El Cajon or Nearby
Schedule an estimate and we'll send one of El Cajon Window Shade's experts to your address for a free consultation appointment with no obligation. You'll see the big selection of materials, designs, colors and other features your new blackout blinds can sport and choose what you prefer. Then, we'll get to work, manufacturing the new blinds. After that, our blinds installers will return with the new shading product. Your new blackout blinds will start enhancing your home or businesses ASAP. Call today to book an appointment.