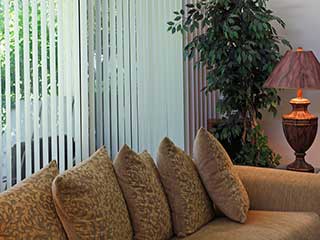 Sideways sliding frames and vertical panels make this style of blinds the opposite of most others. For some El Cajon windows and doorways though, they're more than just preferable; depending on the geometry involved, they can be the only workable option! El Cajon Window Shade is here for all your vertical blinds custom design, manufacturing, and installation needs. And our prices right now are as low as they get!
The Benefits Of Vertical Blinds
The main point of vertical blinds is that they're a secure fit in long, low openings where horizontal blinds would have structural issues. Any window that's longer than it is tall is better suited to vertical blinds than any other type. Vertical blinds for sliding glass doors are popular for more or less the same reason, so patio, deck, and balcony owners take note! Blinds that slide left and right also have the benefit of letting you light half of the room while shading the other. Vertical blinds for office windows or living rooms save a lot of computer screens, while kitchen or bedroom ones provide adjustable comfort.
El Cajon Window Shade's Custom Options
El Cajon home and business owners can choose almost any colors, panel dimensions, and even materials for their custom vertical blinds. Let our team talk you through the pros and cons of vinyl, wood, and aluminum options, among others, and help you choose the best for your situation. If you want something fancier, how about some vertical blinds with a sheer covering, or a set of vertical blinds with curtains over them? The gentler light let in between the slats or beside the sliding blinds makes a nice extra option. You can also choose tracks, rollers, or just hanging vertical blinds from an overhead bar.
Try Motorized Vertical Blinds
Other customizations let you put an electrical motor to work opening and closing your window treatments. At their most basic, motorized vertical blinds are convenient and time-saving, since you can adjust them with a button press from across the room. With more advanced electrical features, you can set your motorized vertical blinds to open and close themselves at certain times of day. Plug in one of our solar sensor devices, and you can even teach your blinds to react to El Cajon weather on their own! Our installation services include setup and programming for all remote controlled or computerized features.
Vertical Blinds Installation Around El Cajon
El Cajon Window Shade provides free estimates on all custom window treatments we manufacture. Make an appointment at your residential and business address, and our team will be over for the free consultation. You'll choose the features and materials you want, along with colors and specific designs. Then, once the new custom made vertical blinds are ready, we'll bring them over and install vertical blinds on your window or door frames. As with all other things, we make sure our installation appointments are as convenient and un-obstructive as possible for the customer!
Arrange Free Quotes on Blinds, Vertical or Horizontal
If you have windows or sliding doors to cover, get in touch with El Cajon Window Shade and see the vast selection of products you can go for! With a free estimate and a no-obligation consultation you'll see all the different types of vertical blinds (and horizontal window treatments) we can create for your El Cajon home or commercial business.