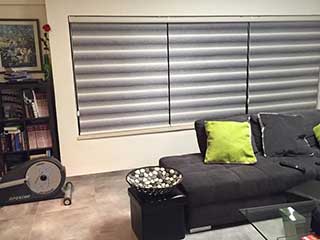 Blinds or shades. Fabric, aluminum, or PVC. Most can be dusted or vacuumed and some can even be hand washed. Taking good care of your window treatments is very important. Not only for aesthetic reasons. Good cleaning and maintenance schedules will help your blinds and shades last longer. Here are some cleaning techniques that will help you ensure your blinds and shades retain their original beauty and style:
Cleaning Fabric Blinds
The most popular fabric window coverings are Roman blinds (also known as Roman shades). They are easy to clean – just vacuum with a dusting or upholstery brush at low speed as often as you clean your house. Occasionally you can wipe down the Roman shades with a cloth dipped in warm diluted soapy water to remove stains and persisting dust. Let them air dry or wipe with a microfiber towel. A couple of times a year you should also hand wash the Roman shades or dry clean them, depending on the make of the fabric.
Cleaning Real And Faux Wood Blinds
Wooden blinds should be cleaned as often as you would clean wood furniture. Dust them with a dry or damp microfiber cloth or special dusting wipes while completely lowered. Then, tilt the slats to ensure both sides are clean. Faux wood blinds can be cleaned with a damp cloth or one that is soaked in a non-abrasive cleaning solution to kill bacteria and allergens. Faux wood blinds have fewer maintenance requirements, so you have a broader range of cleaning products you can use.
Give Your Vinyl Roller Shades a Bath
Like most shades and blinds, roller shades can be dusted with a vacuum cleaner and wiped with a damp cloth. But for a real good cleaning, you can give them a bath! Remove the blinds and lay them in a bathtub full of warm soapy water, and using a soft brush clean both sides. Rinse, air dry and hang back for a shiny clean new look.
Vacuum, Vacuum, and Vacuum Again
The most important rule in cleaning your window treatments is to remember to vacuum as often as you clean the rest of the house. You can use your regular vacuum cleaner with a dusting or upholstery brush or a handheld duster - whichever is more convenient. Just remember that you need to do it often. This will keep your blinds and shades dust free and looking better for longer periods of time. Vacuuming your blinds and shades also reduces the amount of dust circulating in the house and keeps the indoor environment looking spic and span.
Get New Blinds When The Time Comes
You may have a sentimental connection to your window coverings, or you're just looking to save money. But sometimes getting new blinds and shades installed is the better choice. It can even end up saving you money in the long run. When it's time to replace your old blinds, shades or drapery, call El Cajon Window Shade. Schedule a free consultation with a blinds and shades pro near you and get all the info you need. With us, you can design a custom set of budget blinds or luxurious motorized window shades. All options are available.