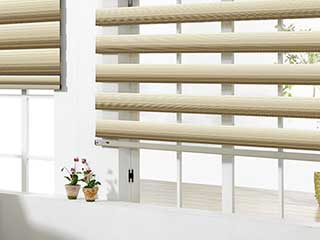 Wooden blinds, real or faux, provide the warmth and decor of timeless elegance and old country feel. From a distance, it's often difficult to tell the difference. But before you decide which type to buy, faux wood blinds or real wooden ones, take the time to find out more about their unique characteristics. There are a lot of similarities but also huge differences. Best understand what those are to ensure the real or faux wood blinds you choose are perfect for your needs. El Cajon Window Shade provides free consultations to anyone looking for real or faux wood blinds nearby. Be sure to call on us for free advice and guidance.
What Are Real Wooden Blinds?
As the name implies, these blinds are made of real wood, often North American hardwood such as oak, walnut, or cherry. They are durable and available in a range of sizes to fit most needs. Due to the natural material, they can be made to keep the unique texture of the wood or be stained in rich colors to match the furniture and any design style, from classic to modern, depending on the need. There's some kind of classic, earthy quality about real wooden blinds that's hard to beat. Wood is also a natural insulator, helping you maintain your indoor temperature more easily.
What Are Faux Wood Blinds?
These blinds are made of composite wood or PVC that is painted or stained and embossed to look like real wood. The slats of faux wood blinds are either made of a wooden core, coated with a polymer or are constructed completely from PVC. Both types are hardwearing and can withstand humid and high traffic environments. Faux wood blinds are also very easy to clean, and are usually cheaper than the real wood option.
Similarities Between Real and Faux Wood Blinds
Both types come in a variety of colors and size options to fit most windows and doors in the house. They also look like wood, obviously, with a variety of texture and design. A good set of faux wood blinds that captures the essence and feel of real wood will look great. Both options can introduce a sense of warmth and cozy rural ambiance to the room. But instead of contemplating which type is better, there's a better solution. El Cajon Window Shade operates near your area. Feel free to always get in touch with us for more information about real and faux wood blinds.
Pros and Cons Of Real Wooden Blinds and Faux Wood Blinds
In addition to bringing the real natural unparalleled traditional ambience to any room, real wood blinds are much lighter. They require fewer slats and can be stained and finished in a larger range of options. Because of the lighter weight they are a good option for wider windows, and, they can be recycled. The main advantage of faux wood blinds is their ability to withstand humid conditions, making them a better choice in coastal areas and for bathrooms. Faux wood blinds are also much easier to clean and best of all – a more economical option.
So What Do I Choose?
Whether you prefer real or faux wood, El Cajon Window Shade is the nearest source for faux wood and wooden blinds. You can choose the style and color of the window treatments you want and they'll be custom made and installed to your preferences.