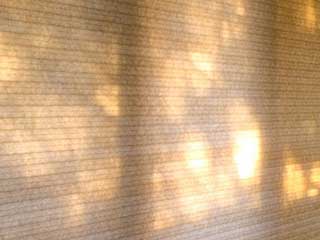 Insulated window coverings can help you save money on energy and control your indoor climate more easily. Cellular shades can do that, and then some. These insulated window coverings offer great energy efficiency, which translates to money saving. Vertical cellular shades are great for allowing you to prevent heat from escaping or entering the room. If you're looking to get these sorts of coverings installed, it's best to get help from a nearby source. The closest cellular shades experts are right here at El Cajon Window Shade, so know that you can always call us for advice and guidance.
What Are Cellular Shades?
These are coverings that utilize an unusual build to do more than just shade the windows. Cellular shades are designed to enhance the décor of a room, but also to add to its thermal insulation. They serve to lower the rate of heat loss and make it far easier for you to control your indoor climate and block out not only sunlight, but also noise from the outside.
How Insulated Cellular Shades Work
It's all in the design. The unique build of cellular shades is what makes them so energy efficient. The cellular-build, also referred to as a honeycomb structure, does the trick. The air pockets between the folds trap hot air. It essentially becomes a barrier for it. That way, the air doesn't escape the room or get inside when you want to keep it cool. Cellular shades work to lower the workload of your HVAC unit, making it much easier to maintain the indoor temperature. This saves money on energy and on maintenance and repairs in the long run.
Different Sizes For Different Windows
The size and cell number of your cellular shades will depend on the purpose and installation spot. Blinds for glass doors will often need to consist of larger cells and double or triple layers. Double cellular shades are very popular due to their enhanced insulation ability, which many blinds seekers are aiming for. The size of the window in question and its location will determine whether triple, double, or single cell cellular shades are right for you. During the free consultation process (conducted by a blinds expert in your area) you'll learn which types best suits your needs.
A Variety of Choices
You can choose anything from blackout cellular shades to add privacy to your bedroom, or light filtering ones for your living room or kitchen. The range of available fabrics means that your custom cellular shades can fit perfectly regardless of the room. Customizing the design means you'll have an easy time making them complement the existing décor.
Are Cellular Shades Worth It?
One hundred percent. These insulating window coverings do more than just add to the look and feel of the room. It's impossible to stress enough times how effective cellular shades are at reducing heat loss. That is more than money saving. It's convenience and a cozy ambiance that you create effortlessly. The wide selection of design and fabric options make blackout cellular shades a very popular option for a huge range of El Cajon homeowners. The same goes for business establishments like hotels, restaurants, and office spaces.
A Source For Blackout Cellular Shades Near You
Schedule a free consultation with El Cajon Window Shade and get all the information you need to customize and design a set of vertical, light filtering, or blackout cellular shades. Make any room more pleasant and beautiful with these insulating window treatments.