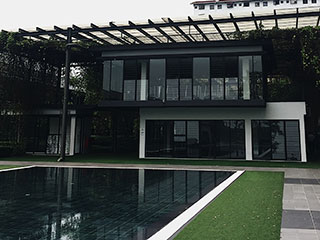 Have you ever sat down and asked yourself "isn't there SOME way to keep the harsh sunlight off of my patio?" Probably not. However, if the basic sentiment behind that question resonates with you, then you should consider investing in patio shades. If you have a big space to cover and want to use it frequently, motorized patio covers are probably the solution. If you prefer something more low key, you can try a simple set of sail shades (try saying that ten times fast!) made to fit. For El Cajon, patio covers can flaunt all sorts of designs and features when installed by our professionals. We provide patio shades custom made for each outdoor lounge section. From pop up canopy options to motorized awnings, you can add any type of patio cover to the deck or porch of your property and enjoy better shade and aesthetics.
Sail Shades And Canopy Tents
To start with the simpler options, sail shades are fabric sheets that stretch taut between three or more attachment points. These are usually manual (though motorized units that move on steel cables with rollers also exist), and keep the worst of the weather away with minimal bulk. Something slightly more complicated to install, but easier to set up or take down, would be a pop-up canopy. These canopy tents cover your El Cajon deck or lawn space from above as well as at least one or two sides. The best part about pop-up canopies is their freestanding quality. You can set one up on a porch hugging the side of the building or over an isolated patch of courtyard just as easily!
El Cajon's Best Motorized Patio Shades And Awnings
Most of us don't have the time or patience to go about pulling or cranking our outdoor shades back and forth all the time. If you want children to be able to play outside without getting wet or sunburned at short notice, motorized awnings only take a button press. Likewise, any particularly large outdoor space is going to take big, heavy covers to protect. Motorized patio shades make the backaches and time consumption associated with them a thing of the past. Most motorized patio covers in El Cajon use rollers to move along a static frame, but some use robot arms or rotating panels. If you want motorized patio shades, consider ordering yours with a solar-powered cell that saves you the trouble of batteries or outdoor wiring.
Hanging Or Freestanding Patio Shades?
The traditional patio cover is an awning-style feature that extends from the side of a building. Not every outdoor space you might want to cover has a handy support structure near it, though. To cover a ball court, garden island, or picnic area, you'll need some type of freestanding patio shades. In addition to the pop-up canopies mentioned earlier, you can install motorized patio shades with their built-in support structure. These are heavy-duty devices, but they give you the benefit of a temporary outdoor shade structure that folds up when it isn't needed! Getting freestanding patio shades for your El Cajon backyard or garden lets you add a comfortable spot to enjoy the breeze. Without the annoyance of blazing and blinding sunlight, of course.
Custom Motorized Awnings and Outdoor Shades
When getting new outdoor covering solutions, it's important to pick something made-to-measure to ensure an excellent fit. Our El Cajon patio covers and outdoor shades are crafted to customer specifications by our US-manufacturer. With free consultation and estimates provided up front, you can make sure you know exactly what you're getting and how much it costs. Call us today to get us working on your own special set of cheap, high-quality patio shades!