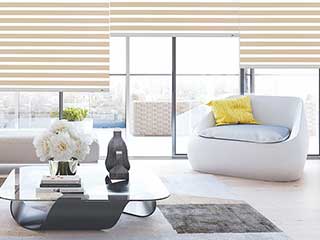 When it comes to having window coverings with versatility in function, layered shades are a fantastic choice. It's easy to adjust the light levels by just opening the shade to the desired height or closing them completely for privacy and to block the harmful UV rays of the sun. Have a nice view? Simply open the shades all of the way and enjoy the beauty of the outside world without anything to hinder it!
Minimalist, Yet Modern
The fact that layered shades can be fully raised into the valance is great for people who opt for a minimalist approach, but also like a more modern look. It creates a neat and clean look above the window with nothing to get in the way, creating an open view or full light exposure when you feel the need. The sheer fabric in between the woven bands looks more modern, but still simple in design that people are sure to adore.
Styles You Will Love
Not only do layered shades offer many benefits to your home or office, but they also come in a variety of colors and styles too. Lightening and darkening options are also available and help you to customize your room lighting however you see fit. So no matter the style you need to match with or how much light you want filtered out, there is a solution waiting right here for you when you need.
Contact Our Experts Right Away
Whenever it comes time for you to think about window treatment options, make your team El Cajon Window Shade the ones you call! Our professionals are some of the best in town and will always make sure you're satisfied. You can count on free consultations and great warranties that will last for many years to come. Contact us today and add beauty to your home that will last!
Some of our other products:

Wood Blinds

Blackout Blinds

Cordless Blinds

Exterior Shades