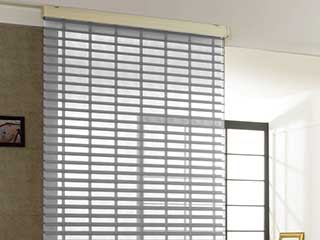 So what sets sheer shades apart from other window treatments. Well, unlike other fabric coverings that consist of some type of sheet that moves up and down the window, sheer shades are more of a hybrid. They consist of a fabric layer that can roll up or down to cover the window, but they also have fabric vanes, just like regular blinds. This allows for a great deal of adjustability and versatility, giving you all sorts of light filtering options.
Unique Design Makes For Extra Options
With regular shades, you're more limited in terms of how you control sunlight. You can open the shades all the way, or close them all the way. Or you can place them somewhere in the middle, or closer to one end. But that's still a more limited approach. There's no doubt that blinds allow for a lot more nuance. Of course, with blinds, there seems to always be some amount of sunlight getting through the slits between the vanes. Well, sheer shades eliminate those cons and utilize all of the pros to bring you a perfect combination. Because they have both a fabric sheet backdrop and adjustable vanes, your ability to control sunlight is very precise.
Light Filtering or Room Darkening – You Choose
You can close the sheer shades fully to darken the room as much as possible. You can open them all the way to let in tons of sunlight. Or, you can opt for a range of options between those two extremes. Even with the fabric cover rolled down all the way, you still have the option to adjust the shades. The sheer cover still lets some light through, and the position of the vanes determines how much of that diffused sunlight ends up getting inside the room. This adjustability is great for any room in which you want to switch between varying degrees of privacy both quickly and easily.
Perfect For Residential and Commercial Properties
The versatility of sheer shades and the ability to adjust them easily makes them excellent for multiple uses. They're great for home use, of course, but also fantastic for all sorts of businesses. Sheer shades for office spaces are great if you want to utilize natural lighting, but also want to have the option to switch to more privacy. These window coverings are especially great for meeting rooms, doctor's clinics, and lawyer offices. Add to this the option to motorize your sheer shades, and you can also make a great impression on clients with a high tech set of window coverings that move smoothly and quietly.
Are Custom Made Sheer Shades Right For You?
The answer is simple – probably. But to be sure, you should schedule a free consultation appointment with an expert from El Cajon Window Shade. Use our years of experience and vast pool of knowledge to design a set of shades that will meet all your needs while also fitting your budget. Get in touch with us today to learn everything you want about sheer shades and window treatments in general.
Other available products:

Bamboo Shades

Motorized Curtains

Aluminum Blinds

Pleated Roman Shades