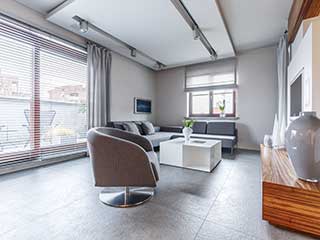 No more unsightly strings or needing to drag yourself back out of bed when you realized you forgot to close your windows' coverings before bed to avoid being blinded in the morning! Motorized shades will allow you to take care of it with a remote control or even a smartphone! It's just that simple.
Increase Security With Ease
You may not have considered it, but the activity of your shades tells the outside world a lot about what's going on inside! Window coverings that haven't moved in a long time can signal to criminals that nobody's home and they have a good chance of getting in undetected. However, with motorized shades, you'll be able to easily keep them moving throughout the day, even if you're nowhere near! By using timers or the app on your smartphone, you'll be able to better deter anyone from trying something wherever you are.
Protect Your Furniture
With too much exposure to the sun, your furniture, art, and otherwise can all be irreparably damaged by bleaching. On top of that, it will also heat up your home unnecessarily in the warmer months. Motorized shades can be easily and quickly adjusted to combat this direct sunlight, especially if you have a smart home system that will allow it to open or close them automatically according to the light and temperature. Have windows that are too high up to be covered with manual shades? That's no longer a problem thanks to motorization.
Won't Disturb Anyone
You might worry that motorized shades could be noisy and perhaps even move slowly as well, but neither worry applies to our excellent products! They move quickly and quietly so there's no risk of waking anyone up when using them. That makes them a great fit for nurseries and bedrooms!
Call Our Professionals Now
It's time to get the ease you deserve and upgrade your home to the newest and best modern tech there is! Why waste any more of your precious time opening and closing the shades by hand when you can just press a button? Contact our local experts today to find out more information.