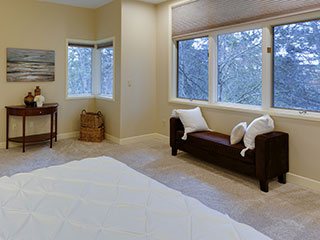 Simple covers on your windows can block or diffuse some sunlight. But for maximal control over how much natural lighting you utilize, motorized blinds offer the best bang-for-your-buck. With our variety in motorized blinds features and design choices, you can create custom electric covering solutions for different rooms and needs. From large window walls with automatic vertical blinds to remote control window coverings for kitchens, bathrooms, or various living spaces. Motorized blinds, custom made-to-measure according to the size of each window, provide a fantastic enhancement of utility and interior décor. The El Cajon motorized covering solutions specialists working for us can provide you with all sorts of samples and design ideas. We'd love to provide a free estimate and show you all the different (very affordable) combinations.
Why Choose Motorized Blinds For El Cajon House or Business?
You might think that motorized window treatments will cost too much and won't be worth it. Well, actually, motorized blinds can end up costing far less than one might expect. Certainly, the motorized variation of one set of blinds as opposed to its manual version will cost less. At first. But motorized blinds with programmed timer settings and brightness sensors can help you make full use of natural lighting and control the temperature inside your property much better. That means lower energy spending on a very long timeline. Motorized blinds offer just as many design options as regular coverings. And with the automatic blinds features, controlling the vanes and position of the covers becomes an effortless try.
Motorized Blinds Power Sources
Choosing the normal electrical connection for your automatic window coverings isn't the only option. We offer customers El Cajon motorized blinds with battery power as well as solar panel features. That means you can get motorized window treatments that don't rely on your local electrical grid for power. Battery-powered blinds can work even when the main power goes out. Naturally, they can move a little slower, but the installation is very fast and hassle-less. Solar-powered motorized blinds function great by capturing energy from the sun itself. That means as long as it doesn't get cloudy and grey, you can block sunlight and take advantage of it to save money on energy with solar motorized blinds and shades.
Automatic Window Covering Solutions
It's important to maximize your convenience with motorized blinds. After all, the main reason people get them is to avoid all hassle when it comes to controlling natural lighting and blocking or diffusing sunlight. Automatic motorized window coverings can operate on a schedule, exposing or concealing more of their designated glass surface to optimize your use of energy-saving natural lighting techniques. Motorized blinds and other remote-controlled window covering solutions can also incorporate the use of special sensors. Whether for brightness or temperature, these sensors will tell your motorized blinds when to add or reduce the amount of sunlight streaming through your windows.
Electric Blinds Made-To-Measure
The main reason getting custom made window coverings, motorized or otherwise, became so popular is efficiency. You want your blinds, shades, draperies, or other covering solutions to fit over the entire frame of the windows or surface areas you're trying to cover. Motorized window blinds need to provide hassle-free and effective results. And with custom made coverings you can achieve that every single time. Interested in customizing your own set of motorized blinds and getting a free estimate for a El Cajon business or home? Give us a call! Our local motorized blinds installers can help with advice and a wide range of design ideas. Set up an appointment for a completely free consultation!