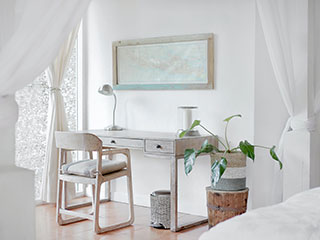 Privacy and sleep, two things that go hand in hand often. With blackout window blinds, you can maximize both in any room you choose, simply by getting these thick fabric window coverings installed. Blackout curtains provide a complete way of blocking sunlight. That means sleep can occur without interruptions from light. The same goes for privacy, with no light streaming through, no visibility is available. Blackout window curtains for El Cajon bedrooms make for a very popular choice. These curtains can also work for office spaces where you need privacy, or anywhere else where you want.
Motorized Curtains, Blackout
A major benefit of motorized window curtains with blackout fabric is the automated operation. You press the button and the motorized drapery moves accordingly. This makes these coverings excellent for bedrooms, office spaces, and virtually all other spaces. Motorized blackout window curtains let you control sunlight from the comfort of your bed. If you just slipped under the covers and forgot to cover the windows, motorized blackout curtains will do that. All you need is the remote. And if you choose wireless Wi-Fi motorized curtains, you won't even need that. Your smartphone can work, or even voice commands if you connect motorized window curtains to your Smart Home system.
Bedroom Curtains – Blackout Window Covers
For the most ideal sleeping conditions, you need total darkness. The brain is stimulated by sunlight, so any presence of light, even artificial, will lead to improper sleep and a groggy feeling in the morning. What's worse, bad sleep also negatively influences your health. Therefore, blackout curtains for your El Cajon bedroom windows help you promote better lifestyle choices and results. Bedroom curtains need to have room darkening qualities to ensure you don't get woken up too early. Whether from a streetlight or the sun, your sleep can get interrupted rather easily when it comes to light. So consider blackout bedroom window curtains as the solution. These room darkening window coverings offer a fantastic option at very low costs.
Living Room Window Curtains – Blackout Fabrics
Many people love spending time in the living room to watch TV. This can be enhanced with blackout window curtains in the living room. By darkening the room, you can create an atmosphere suitable for watching movies. Much like in the theater, the darkness of the room helps you become more invested in the movie or show you're watching. Blackout living room curtains make for excellent choices for family movie nights and alike. The thick fabrics used for living room curtains can easily swipe aside to let in sunlight during the day. At night, you can draw the blackout curtains in your El Cajon living room for better privacy and TV watching experience.
Get Blackout Window Curtains For El Cajon Home or Business
Discuss different options with our local team and see what sorts of window curtains, motorized, or manual with rods, can work for you. We offer customers completely free estimates on blackout window curtains for residential and commercial purposes. With our custom made window coverings you can choose any design and colors you like. Many people even go with white blackout window curtains to have décor with a presence. Book your free consultation and see what blackout curtains can add to your El Cajon area property.