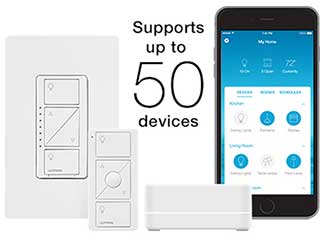 A great way to add clean looks to a room while also improving functional features is with motorized shades. You can utilize remote control window coverings to optimize energy efficiency and your use of natural lighting. With Lutron motorized shades, you gain tremendous benefits of wireless smart window covers with dimmers, remote controls, and smartphone connections. The elegant aesthetics, combined with technologically advanced Lutron shade motorization, makes these automatic window coverings excellent choices for El Cajon area residences as well as commercial businesses.
Sheer/Blackout Lutron Shade Solutions
The main purpose of window shades, motorized or otherwise, is to control natural light levels. With sunlight diffusion, you can enjoy brightening indoor areas with sunlight but without harsh glare and dangerous UV rays. Blackout shades for windows provide a way to completely block sunlight. This makes Blackout Lutron shade features excellent for El Cajon bedroom windows and other spaces where you want the option for privacy. Blackout shades prevent sunlight from entering, thus letting you sleep in darkness and gain a much better rest. With sheer Lutron shades, you can diffuse sunlight and create a soft ambiance of brightness that isn't too harsh and doesn't cause glare off screens and polished surfaces. With Lutron controls and dimmers, you can adjust opacity levels to make the most out of your motorized window shades.
Wireless Motorized Shades – Smart Controls
For decorative purposes, Lutron shades provide fantastic additions. And you don't have to worry about unaesthetic wiring running across walls or the ceiling. With wireless Lutron motorized shades, everything is concealed or utilizes Wi-Fi technology to allow for complete remote control without any wires. Motorized Lutron shades give your El Cajon property a clean look that can add to its elegance and aesthetic value. Suitable for all types of rooms with different materials to offer varying features, these motorized shades can help you create the perfect indoor environment when it comes to brightness and temperature.
Best Lutron Shades in El Cajon and Nearby
We pride ourselves on our client-first approach and high customer service standards. That's why we offer free estimates and in-person consultations on custom made Lutron shades to all inquiring customers. You can meet with one of our professionals to discuss different features, designs, and other aspects. All our products are made-to-measure, so you can customize the look and functionality of them before getting a free quote. Interested in adding Lutron shade solutions to a El Cajon area home or business? Book your consultation appointment (free) online or via our scheduling phone line.