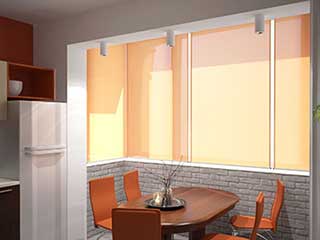 Arguably the simplest shading solution you can get for home or office windows is to install roller shades. These covers have a simple build but they're incredibly effective at diffusing sunlight and giving an extra touch of décor to the room. Roller shades have become increasingly popular in the past decade due to their simple yet functional design and the reliability of their sun blocking capabilities.
As Versatile As You Want
Although the build and operating method of roller shades are fairly straightforward, that doesn't mean that there isn't a lot of variety when it comes to designing them. In terms of color and pattern, the options are practically limitless, as the shades themselves are a blank sheet that can be patterned and stained in any way you like. You also have the option to choose materials of various opacity levels. Want to add sheer roller shades to your living room? How about blackout roller coverings for your bedroom? Those are all viable options that don't require any extra efforts to craft.
Simple Operation – Enhanced
One of the most popular variations that people tend to go for is motorized roller shades. By automating your window treatments, or at least adding the option to control them remotely with a wireless device, you can add a lot of convenience to drawing the shades. While cordless roller shades that operate manually are still prevalent, many are opting for the motorized enhancement that adds a high-tech vibe and a smooth and silent operation. Motorized roller shades are an excellent shading option for all types of rooms, and are a relatively cheap way to give the décor a modern vibe without spending a fortune.
Roller Shades – Custom Made
The key thing with window coverings is to ensure that they can fit the size of the window perfectly. This is particularly important with roller shades, as they move vertically to cover the opening. Custom made roller shades will ensure that unfiltered sunlight doesn't get through the sides and that your privacy isn't compromised while the shades are down. For more information and a free consultation appointment (face to face, of course) contact El Cajon Window Shade today.