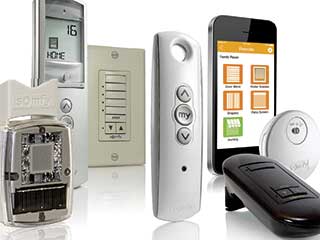 From motorized shades to awnings and window shutters, Somfy shading solutions offer you the best of all worlds. The ability to utilize smart home technology to control window treatments, motorized patio covers, draperies, and other methods of sunlight control gives you complete say over natural light levels inside your property, as well as indoor climate. With made-to-measure Somfy blinds, shades, and shutters available, El Cajon area residents and business owners have the perfect shading solutions for every need and purpose.
Motorized Blinds and Shades
The effectiveness of window blinds goes without saying, as does the decorative nature of roller shades. You can utilize Somfy blinds in any El Cajon home to create warm environments with diffused sunlight creating a soft ambiance. The same goes for motorized window shades, sheer or blackout, letting you decide precisely how much sunlight you allow inside. With vertical blinds and Venetian window treatments, Somfy lets you pick the option that best suits your preference and budget.
Motorized Blackout Curtains and Drapes
Talk about a classic choice! Motorized drapery combines the old-style taste with new-age technology. You can add a great sense of style to any room with window curtains in blackout fabric for ultimate privacy and sleep. And the motorized Somfy control options let you push a button to slide your motorized draperies across to reveal the window beyond. Choose the type of made-to-measure motorized curtains or drapes that you like best, with the Somfy control methods that provide the most convenience for your day-to-day activities.
Motorized Patio Covers and Awnings
For outdoors, Somfy pergola shades and patio screens let you enjoy the air at all times of the day. Have a motorized Somfy screen roll out to cover parts of your patio to keep you in shaded cool areas even when the sun reigns high in the sky. Motorized patio covers offer El Cajon outdoor lounges excellent features and functional shading solutions for all types of weather. You can choose different colors and have the new motorized patio covers made in custom sizes for different spots too.
Rolling Shutters For El Cajon Windows
With Somfy's motorized window shutter options, you can cover big glass walls with durable and aesthetic coverings. With the touch of a button or with voice commands, you can have your motorized rolling shutters slide up or down. Perfect for energy efficiency and security, motorized window shutters with Somfy controls provide fast and smooth solutions for large surface areas.
Best Somfy Blinds Near You
Look no further when you need new motorized shading solutions in any style! Our local El Cajon Somfy installers offer customers draperies, window blinds, shutters, and more. All in custom designs and sizes for home or business spaces. Get the best deal for your needs by scheduling a free estimate on Somfy window treatments from the nearest expert team.