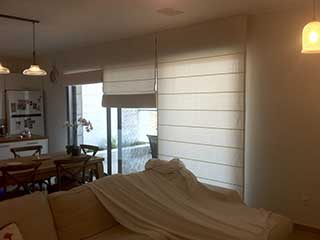 Cordless lift provides an added convenience and safety to operating most types of blinds and shades. It's become increasingly popular over the last decade, and for good reasons. Find out how this amazing window treatment feature works. Keep reading and decide if cordless blinds are an appropriate option for your home or for your business.
How Do I Use Cordless Lift?
Using cordless blinds or shades is very simple – to lower either one, you just pull the bottom down and let it unfold to the point of your choice. To raise it, you simply nudge the bottom shade or the bottom rail of the blind and it will automatically lift up. Some blinds also have a cordless tilting option, which enables tilting of the slats with a slight touch.
Is Cordless Lift Available For All Types Of Blinds And Shades?
Cordless Lift is available for all types of blinds and shades. This includes Wooden Blinds as well as faux wood ones. The same goes for vertical blinds, Cellular Shades, and flat or pleated Roman Shades. And many more, of course. Generally, the cordless lift is ideal to any size window or glass door blinds, as long as the blind or the shade is reachable by hand. For those who want manual operation without having to deal with strings or cords, the cordless lift option is perfect.
What Are The Pros And Cons of Cordless Blinds?
Cordless lift window treatments are simple to operate. The simple lift eliminates the need for ugly cords and wands thus giving a tidier and more elegant look to the room. Safety is a major issue, especially around small children or pets. They can easily get tangled by the cords, or can choke on the small pieces of the tassels attached to them. That's why childproof blinds all utilize a cordless lift method. Having no dangling cords is a much safer option, reducing the homeowners' concerns for their kids and guests.
What About The Potential Cons?
There are some possible disadvantages. The larger the window covering the more pressure is put on the control method. Therefore a cordless blinds system might be less suitable for a very wide or long window. In addition, the mechanism does not last as long as the traditional corded blinds system, and might need to be repaired occasionally.
Remember That Motorized Shades Are Also an Option
Cordless blinds can be perfect and affordable for most types of rooms. But if you're interested in the cordless aspect and don't mind spending a little extra to get a lot more, then motorized cordless blinds are definitely the way to go. Using a remote control or smartphone apps to open and close your motorized shades is arguably the best cordless method of operation. Of course, some still prefer manual cordless blinds. Probably for their inexpensiveness and overall appearance. But for those who want a high-tech solution that also looks good and offers you automation and autonomy of your window coverings, motorized cordless blinds and shades are a great option.
So Are Cordless Blinds Worth It?
The benefits certainly outweigh the advantages. For those looking for childproof shades that work manually, the cordless lift method is an excellent choice. If you want to find out more about the cordless lift blinds or any other window covering options, call El Cajon Window Shade for a free consultation.